Mass Schedule is Restored!
It is now possible to book seats to attend Mass here at St Joseph's.  Please use the link opposite, and read carefully the directions regarding the number of tickets which you will need to book per person, couple or family.
I very much look forward to seeing you back here at Mass if you are able to attend – please come only if you have booked your ticket in advance, because seating is limited.  If you are aware of other members of our parish family who do not have internet access, please contact them and offer to book their place for them – Thank you!
For those who are unable to attend Mass in person, because of Shielding, Isolation or other reasons I will still upload one Mass each weekend to our YouTube channel.  Please use the link below to access the channel.
***
First Reconciliation & First Holy Communion 2020
First Sacraments Catch-up Programme –
First Reconciliation:
The Programme is now underway!  The physical resources will be given to the Year 4 children attending St Joseph's School this week, and those children who attend other schools, your resources are being held in the Sacristy in Church, please collect them from Fr Stephen after Mass this weekend, or after any Mass during the week.
Once you have received the physical resources, you will find instructions for the next stage of preparation for the sacrament which you will complete at home. The  date for First Reconciliation is Saturday 7th November, and timings will be confirmed.
First Holy Communion – Catch-up Programme
Parents who enrolled their children last year for First Reconciliation should have received an email from Fr Stephen last week, which gave information about the First Holy Communion Programme.  If you have not done so already, please respond to that email if you wish your child to receive the sacrament on the weekend of 21st/22nd November 2020 (Christ the King).  If your child is in Year 5, and you have not received the email, please do contact Fr Stephen at stephen.webb@dioceseofleeds.org.uk as soon as possible.  Resources are being made available for the delivery of the programme this week – either through St Joseph's school (if your child attends there) or else through Church, after any Mass during the coming week.
***
World Mission Sunday – 17/18 October 2020
Pope Francis encourages us to hope and trust in the Lord. In his message for World Mission Sunday, he reminds us that 'in a context profoundly marked by the COVID-19 pandemic, we must not be discouraged because mission is not the fruit of human capacity but belongs to God. He sent his Son Jesus Christ and today he sends every baptised person.'
***
Beatification of Carlo Acutis
Saturday 10th October
Carlo Acutis will be beatified by Pope Francis on Saturday 10th October 2020 at the basilica in Assisi. Carlo lived most of his life in Italy, but what is less well-known is Carlo's connection with the Church of Our Lady of Dolours on Fulham Road, in London.
Carlo was born in London on 3rd May 1991 to Italian parents and was baptised at Our Lady of Dolours on 18th May of the same year by Fr Nicholas Martin OSM, Parish Priest at the time. The family moved to Italy shortly afterwards where Carlo was raised in the same active faith as his parents. Having made his First Holy Communion at the age of seven, he made the decision to attend Mass and pray the Rosary daily. He said, 'By standing before the Eucharistic Christ, we become holy.' He also had a routine of weekly confession. By the age of 11, he became a catechist.
'He was a remarkable young man, who had a great understanding of the sacraments and scripture', explains Fr Patrick Ryall OSM, current Parish Priest of Our Lady of Dolours.
Carlo learned about the known sites of Eucharistic miracles around the world and expressed a keen desire to go on pilgrimage to see these sites. Unfortunately, he developed leukaemia, which made this impossible. He offered his suffering for the Pope and the Universal Church. To help others learn to grow in devotion to the Eucharist, he used his digital media skills to develop a website to catalogue each of these miracles. One of the Eucharistic Miracles that Carlo highlights is that connected with St Juliana, Foundress of the Servite Sisters on her death bed.
Carlo died in 2006 at the age of 15. His cause was opened in 2013 and he was declared a Servant of God. On 5th July 2018, Pope Francis declared him to be venerable. Beatification is the final step before sainthood and was helped when a young Brazilian sought his intercession in healing from a serious pancreatic disease. In February this year, the Pope approved a miracle attributed to him.
Looking forward to his beatification, Fr Patrick added: 'We're grateful that Carlo and his family had that time with our parish. We are sure he will be a source of blessing for us.'
The below video is an animation of Carlo Acutis' life with a reflection from Cardinal Vincent Nichols.
A look at Carlo's life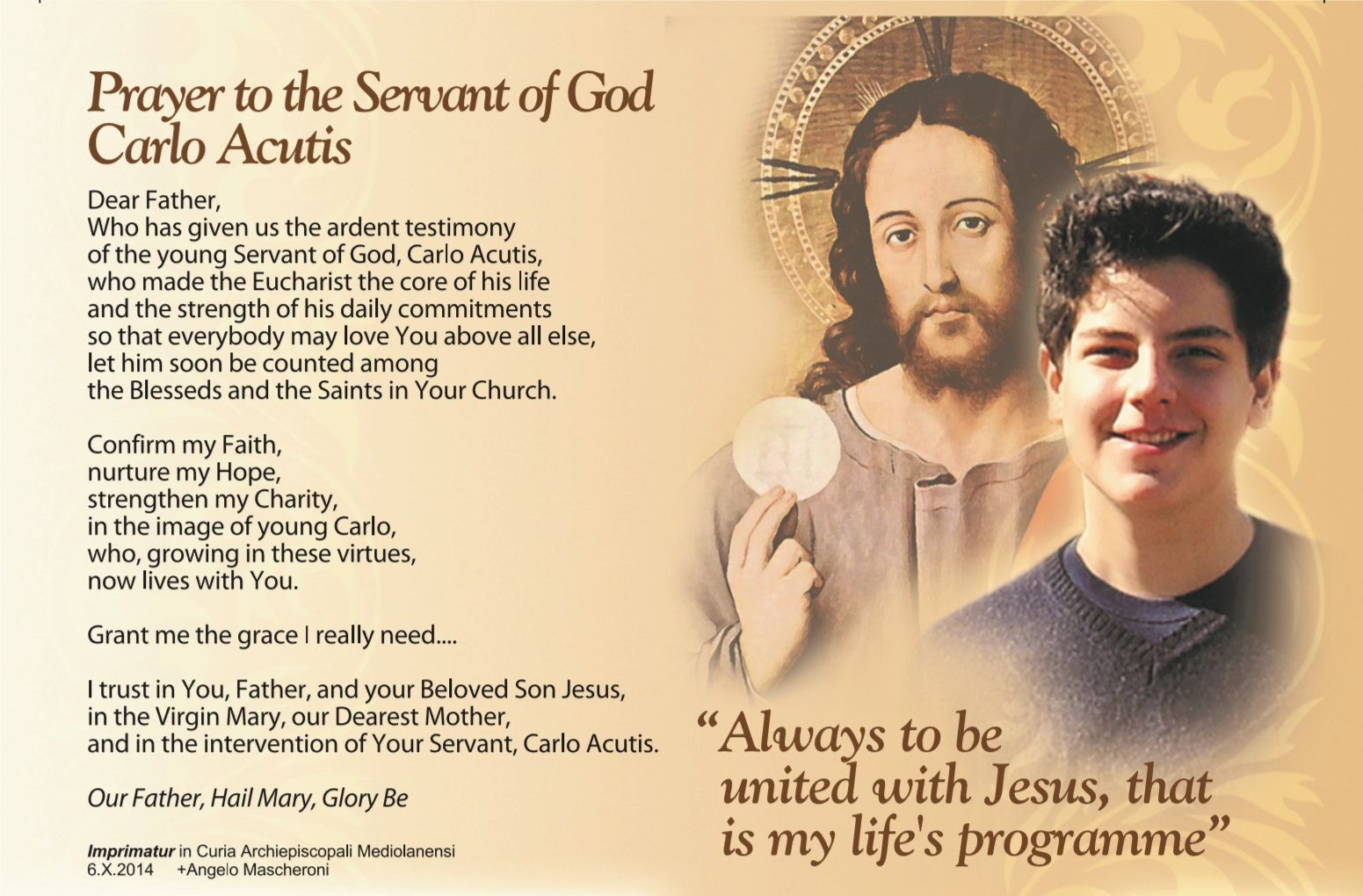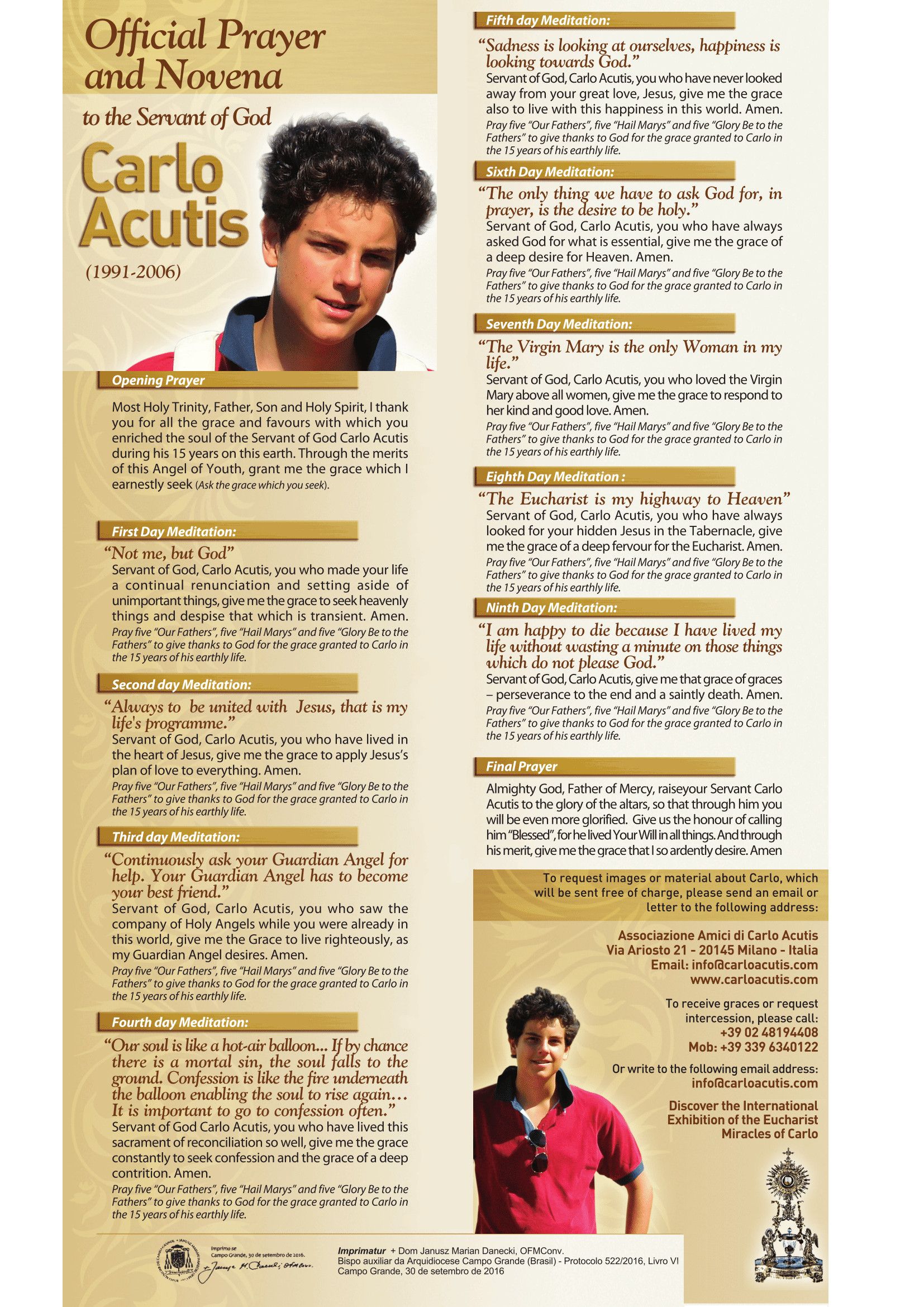 Updated: Face Coverings Mandatory in Churches from Saturday 8th August
 In order to keep the spread of COVID-19 under control, the government has announced that face coverings must be worn in places of worship from Saturday 8th August. This is enforceable by law for all except those who are exempt from wearing a face covering.
Public Health officials have been given extra powers to enforce the wearing of face coverings in public spaces with fixed penalty charges. However, their approach is to educate rather than penalise. It is for the benefit of the common good that a face covering should now be worn by those who are able to do so.
The Catholic Bishops' Conference of England and Wales (CBCEW) has now updated Bishop Marcus, who in turn has issued guidance to the clergy, including the following additions to the previous guidelines which are directly relevant to laity attending Mass:
Face coverings will be mandatory in Places of Worship from Saturday 8th August 2020. Parishioners attending churches should bring face coverings with them, and wear them in church unless they are exempt from doing so. This is for the good of all who gather in the church for Mass as it is an enclosed public space where there are people from differing households who they do not normally meet.

Worshippers should limit their interactions with anyone they are not attending church with, i.e. if they are attending corporate worship with one other household, wherever possible they should maintain social distancing with anyone outside of this group.

Readers should sanitise their hands before and after reading and should avoid touching the microphones or the Lectionary during the Liturgy of the Word, apart from page turning. Readers may remove their face coverings at the lectern to read and should replace them before stepping away from it, providing the lectern is sufficiently distant from the congregation

Priests in the sanctuary providing they are sufficiently distant (2 metres or more) from the congregation do not need to wear a face covering except when distributing Holy Communion. Other ministers in the sanctuary should wear face coverings and remain socially distant from the celebrant.

Unless otherwise instructed by the priest or stewards, a communicant should unloop their face covering and with arms at 'full stretch' extend their hands as flatly as possible, palms upwards, one of top of the other, to receive Holy Communion. They should then immediately consume the Sacred Host and replace their face covering before moving back to their seat.
***
Re-opening of Churches in the Diocese of Leeds for the Celebration of Holy Mass
Please click on the link below for a document issued by the Bishop of Leeds this evening containing Frequently Asked Questions regarding the opening of our Churches for Mass.
We are only able to open Church for Mass and Private Prayer because of the generosity of our Stewards who help to manage each opening, if you are able to volunteer your time, please contact Elaine Flannigan on 0779 150 0359 for more information.
Please see the following short video regarding visits for Private Prayer at St Joseph's.  Please also excuse the bizarre thumbnail picture YouTube has chosen !!  Fr Stephen
***
Your Giving to Your Parish
A number of parishioners have been in touch to ask how they can continue to make their weekly offerings to St Joseph's Church here in Bilton.  Thank you all for asking!
There are a number of ways, the first might be to consider setting up a Standing Order with your bank, please download the form below, or set it up using the following details via your own Internet Banking Service:
Account Name: Diocese of Leeds St Josephs Harrogate
Sort Code: 40-27-15  Account Number 11017500
St Joseph's GAD and SO Form 2019 (1)
(Please fill out this form if you are a UK Tax Payer and would like us to claim back the Gift Aid on your donations – at no extra cost to you.  This part of the form would then need to be sent back to the Presbytery, address below)
The second way might be to use the new text service:
To contribute £5 to St Joseph's Parish Offertory, please text CHURCH BILTON to 70500
**Please note that it is a feature of the text-giving facility that allows for no more and no less than £5 to be given to the Offertory via each text.  If your regular weekly parish giving is either more or less than this amount, please feel free either to send more than one text – or maybe use this facility just once a  fortnight or once a month.**
The third way is to send a cheque made payable to "St Joseph's Church" to
St Joseph's Presbytery,
281 Skipton Road,
Harrogate, HG1 3HD.
Thank you for your continued support during these difficult times, please be assured that I hold each one of you, your families and loved ones in my prayers and Masses each day.
Fr Stephen PP
Live-Streaming of Daily Mass and Devotions
from Leeds Cathedral
From 25 March 2020, Holy Mass will be live-streamed EACH WEEKDAY at 10.30 am and on SUNDAYS at 11.00am. There will also be a live-stream of the Angelus at 12.00noon each weekday, followed by praying the Rosary. Details of other devotions are available via the Leeds Cathedral website and Cathedral Bulletin. To participate online, please access the Leeds Cathedral Live YouTube channel www.leedscathedrallive.org.uk where the words of Prayers, Devotions and Orders of Service may be viewed, or downloaded from the Diocesan and Cathedral websites.
LIVE-STREAMED CELEBRATION OF HOLY MASS
The Holy Father's Daily Mass, celebrated in Italian with English translation, can be accessed on the Holy See's Youtube Channel. This can be found via the following web link: https://www.youtube.com/channel/UCxIsefyl9g9A5SGWA4FvGIA/featured
The Bishop of Leeds will live-stream Sunday Mass from the Cathedral beginning on Sunday 22nd March at 11.00am.  The 11.00am Sunday Mass from Leeds Cathedral will continue to be live-streamed each week whilst the celebration of public Masses is suspended. To participate online, please access the following new YouTube channel which will be live from Sunday: www.leedscathedrallive.org.uk and may also be accessed via a link embedded on the Leeds Cathedral home page: https://www.dioceseofleeds.org.uk/cathedral
In our diocese, the parish of St Edward's, Clifford https://www.mcnmedia.tv/camera/stedward-king-confessor-church-clifford-wetherby and the parish of St Mary's, Halifax https://www.stmaryshalifax.com/ both have live-streaming available.
Holy Mass is celebrated and live-streamed from the National Shrine and Basilica of Our Lady of Walsingham every day at 12:00noon. This can be watched live or later. These videos allow the viewer to participate in the Mass from home and, at the time of Holy Communion, they lead the viewer in an Act of Spiritual Communion. To view please follow the following link: http://www.walsingham.org.uk/live-stream
Daily Mass and other devotions can also be accessed through the EWTN television channel to which many people already have access. Their programmes can also be accessed online: https://www.ewtn.com/
Bishop Robert Barron is also live-streaming his Daily Mass at https://www.youtube.com/channel/UCcMjLgeWNwqL2LBGS-iPb1A